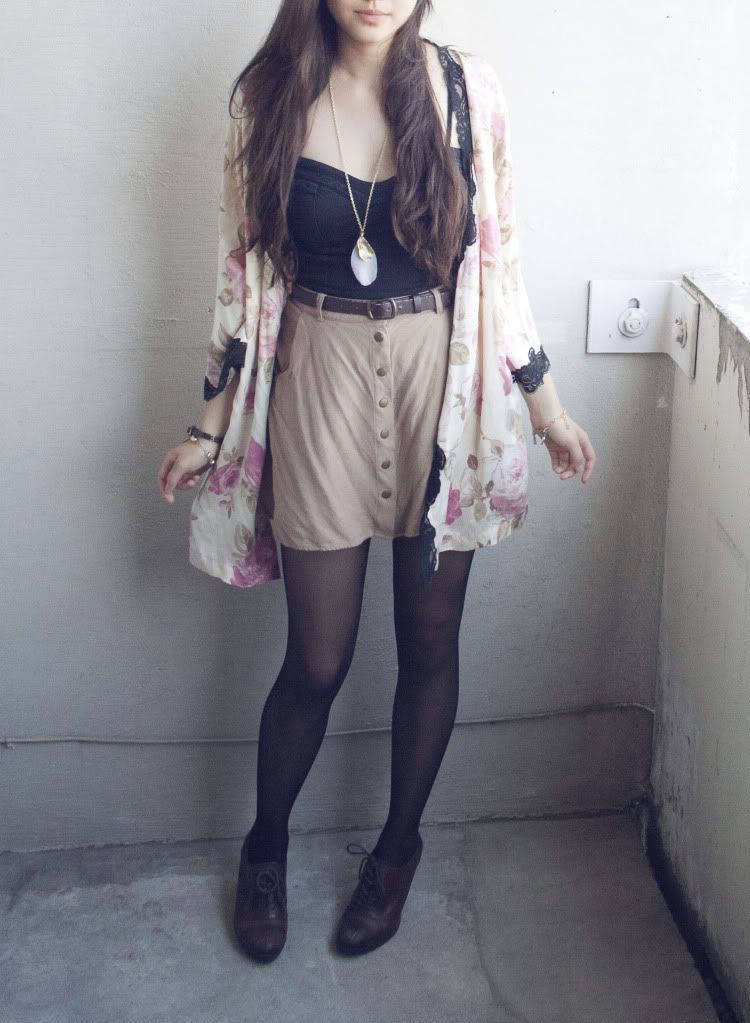 silk floral kimono - banana republic (thrifted)
black bustier top - thrifted
brown button-up skirt - forever 21
oxfords - locale
jewellery - american eagle, aldo, swarovski
summer's come to an end and i'm back to school now, which means... i don't really know what it means.
it's my last of highschool and i really don't know what to expect, but i know this year will be filled with hard work, inspiration and lots of discovery . and hopefully lots of blogging as well .
also, although i have mixed feelings about returning to school (and normal life), i'm rather excited for fall fashion because i get to layer (and swallow myself up in big baggy sweaters). i'm going to be going thrifting with my blogging pal joyce this weekend and i'm hoping to find some nice cheap stuff for the upcoming season . :)
a quick and slightly messy illustration, there's a couple of things that make me iffy about it but i wanted to get this post up by tonight . if there's one thing that fashion illustration is helping me with , is efficiency . and hopefully consistency , i really want to keep this up .
and since somebody asked in the comments before (but i can't find this comment anymore, sorry!) i used adobe photoshop to draw and color my illustrations (though if you don't have that i recommend open canvas which i find even better, but it doesn't run on macs) . :)
hope you're all having a end to summer and beginning to school !
love lydia lemieux