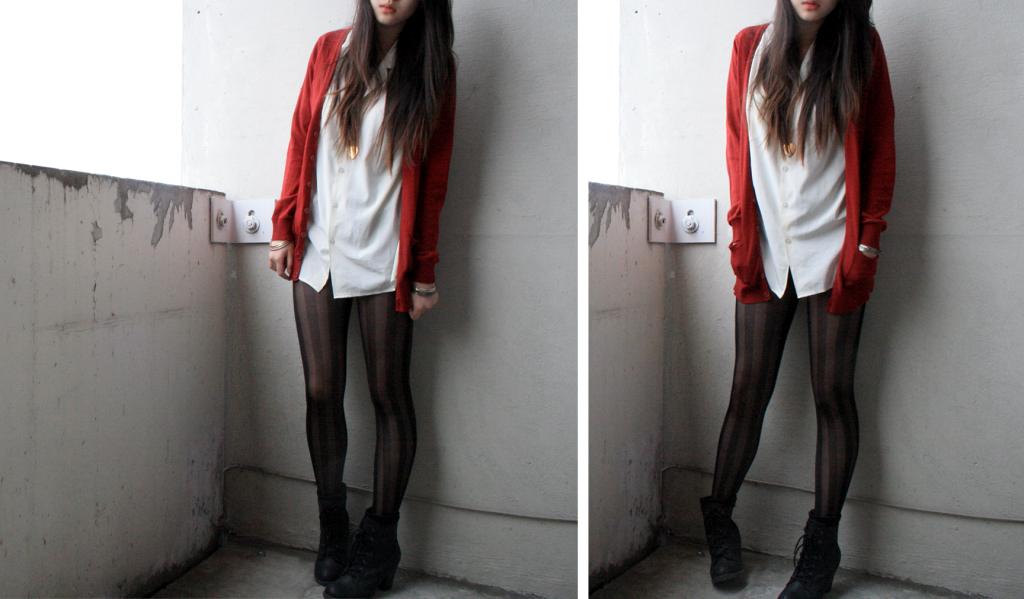 White Silk Button Up - Thrifted
Black High Waisted Shorts - Aritzia
Red Cardigan - Forever 21
Heart Necklace - Ardenes
Striped Tights - Gifted
Lace Up Boots - Spring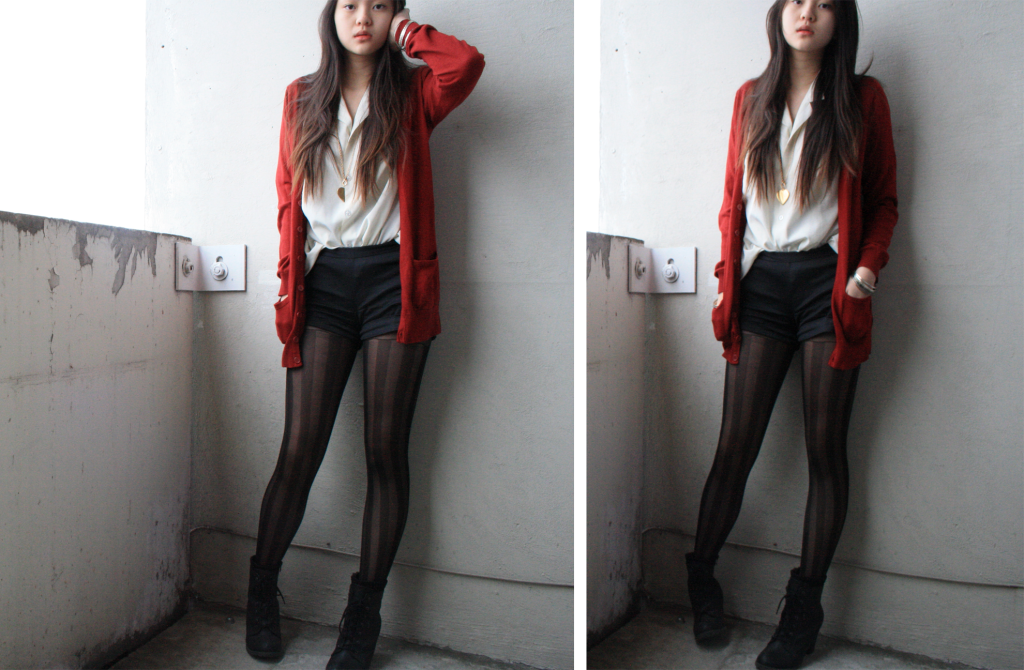 Happy (belated) Valentines Day everybody! Hope you guys all spent it with your special someone or at least around a lot of chocolate...
Chocolate really is a good boyfriend replacement in case you're wondering. If I had spent V-Day alone, I would've spent it filling the gaping hole in my heart with Lindor and ice cream, rejoicing over the fact that Wal-Mart sells sweet stuff REALLY CHEAP before Valentines (for those boyfriends still consoling their wallets after Christmas).
Just kidding! It's okay to be alone on Valentines Day, girls don't really need guys like they sometimes think they do, and vice versa.
All rambles aside... I don't even know why I wrote all that because I spent my Valentines Day with an incredible guy. (I just like to sound pathetic in my writing... it shows character? I dunno...)
In an attempt to show some kind of spirit to the special occasion, I tried to dress Valentines Day themed.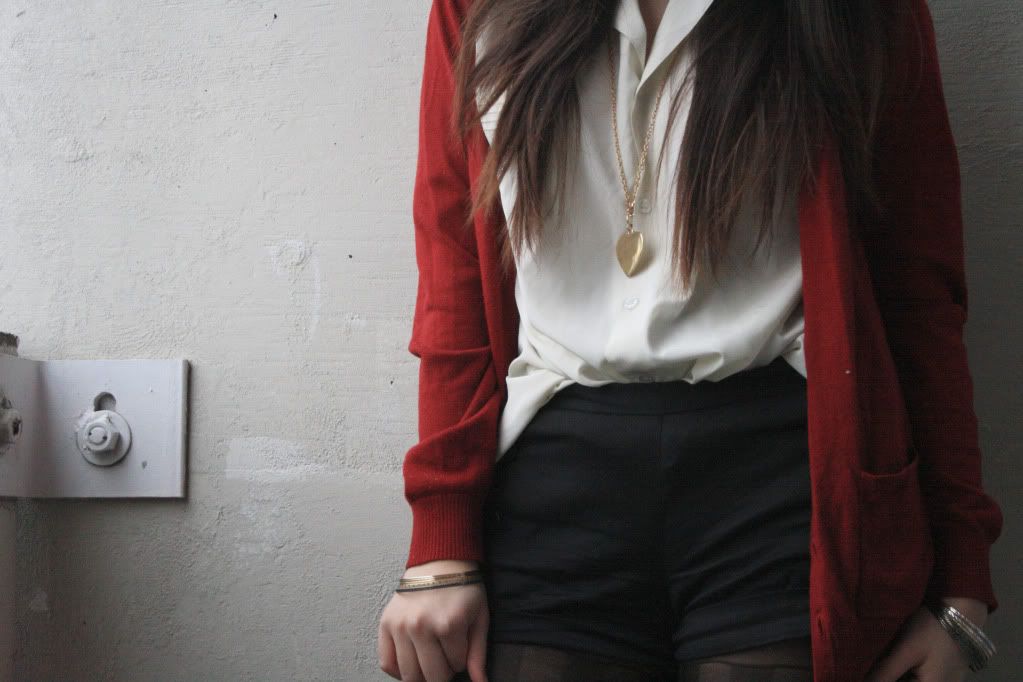 Ie: I put together a typical outfit and wore a red cardigan... Don't have many pink things...
For Valentines Day I got a couple of surprises from my boyfriend. First was getting a rose delivered in homeroom in the morning. It was surprising because he doesn't even attend my school, daww.
He came over later to spend time together and gave me the rest of my present. Didn't take a picture of this, but he gave me another charm for a Swarovski charm bracelet he gave me for Christmas. And he wrote me a poem & made me chocolates. Okay, yes, I feel bad and I'm terribly inferior as a girlfriend...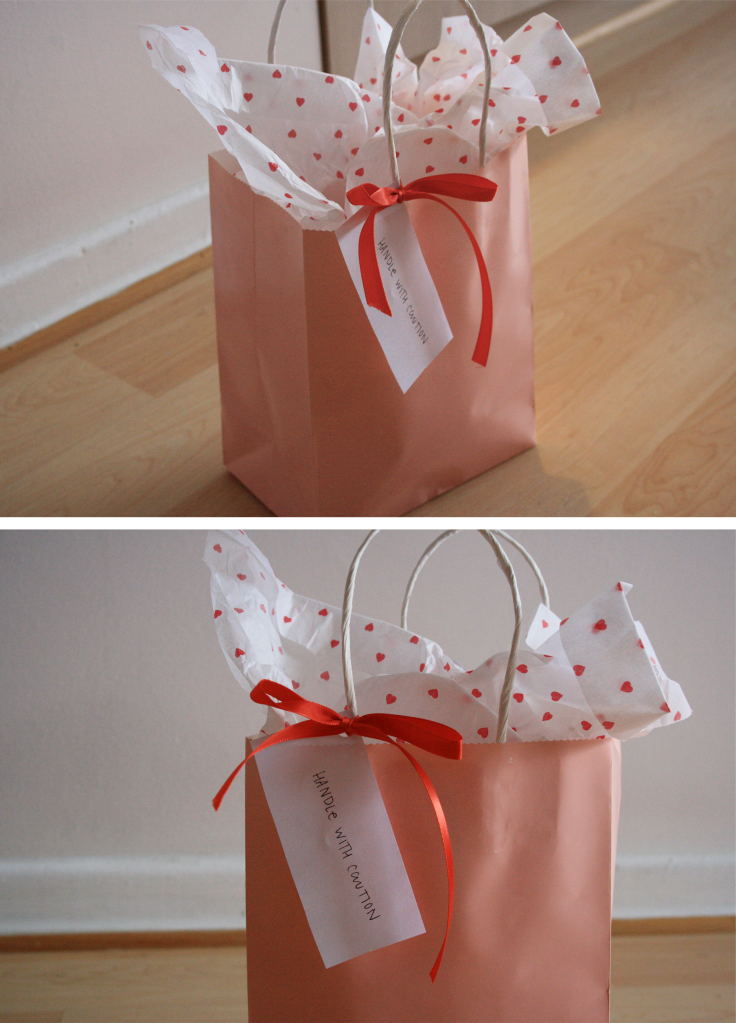 I baked him brownies as a present and since I have more faith in my design abilities than my baking abilities... here is a picture of the bag. Yeah, his presents always ultimately trump mines. Sighh. I'm a lucky lucky girl.
Anyways. Hope you all had a great V-Day/Tuesday/ChocolateDay/Etc! <3